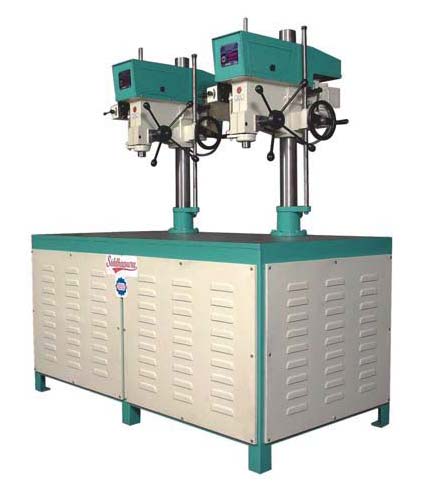 A gang-drilling machine made of numerous individual columns, drilling heads, and spindles mounted on a single base and operating a common table. Several numbers of spindles may be used, but four or six are collective. These machines are designed for machining parts requiring several hole-machining operations, such as drilling, countersinking, counterboring, or tapping. The workpiece is stimulated from one drilling spindle to the next, where consecutive machining operations are made by one or more operators.

Features of the Gang Drilling Machines

Manufactured as per international quality standards

Vastly used by scaffolding manufactures

Heavy & sturdy base assembly for dependable & reliable performance

Hydraulically mechanical forage on heavy-duty LM Slides for drilling

Offered in manual & automatic tube hold variants

Standard collects for drill holding

Standard straight shank H.S.S. Drills

Nearby 70% of the flute measurement can be efficiently utilized

Why we need gang drilling machines
Based on type, the market is segmented into sensitive drilling machine, upright drilling machine, radial drilling machine, gang drilling machine, multiple spindle drilling machine, deep hole drilling machine, and others.

Among these, the deep hole drilling machine segment was the highest contributor and is expected to grow at a significant growth rate during the forecast period, owing to increase in response for drilling deep holes in a wide variability of machines and gear across aerospace, automotive, military & defence, and oil & gas industries.

These machines are required in almost every sector in the manufacturing equipment industry.

Frequently, these equipment are prepared by heavy metals, thereby the oscillation in raw material prices marks the overall pricing of drilling and milling machines.

Moreover, the multiple spindle drilling machine is expected to register the highest growth during the forecast period.

Different types of Drilling Machines
Sensitive Drilling Machine

Upright Drilling Machine

Radial Drilling Machine

Gang Drilling Machine

Multiple Spindle Drilling Machine

Deep Hole Drilling Machine

Different types of drill machines and their use

Vertical drilling machines

These are the most widely used in metalworking. They are used to create holes in fairly small work-pieces in individual and small-lot production; they are also used in maintenance shops. The tool, such as a drill, countersink, or reamer, is secure on a vertical spindle, and the work-piece is protected on the table of the machine.

Radial drilling machines

Heavy and large workpieces with holes located along a curved edge are worked on. Here the axes of the tool and the hole to be pierced are associated by moving the spindle comparative to the stationary work-piece.

Horizontal drilling machines

These are usually used to make deep holes, for instance, in axles, shafts, and gun barrels for firearms and artillery pieces.

Centre-drilling machines

These are used to drill centres in the ends of blanks. They are sometimes equipped with supports that can cut off the blank before cantering, and in such cases, they are called centre-drilling machines.

Multiple-spindle drilling machines

These are added with the feature automation of the work process. Such machines can be accumulated from numerous standardized, self-contained heads with electric motors and reduction gears that replace the spindle and feed the head.